Last Updated on May 30, 2022 by Celia
I have tried emailing Sarah DiMeo 4 times; she will not reply. This confuses me. I have promised to help her and promised my other friends would help also, but no word–not even a single one. I am unsure why. It feels like I (and other listeners/fans) are being purposely ignored as I know she has read all my emails. I give up. There is no podcast happening. I'm sorry for getting everyone's hopes up.
I have put together an email subscription newsletter for anyone interested in receiving all future site updates. The sign up forum is the first widget on the sidebar.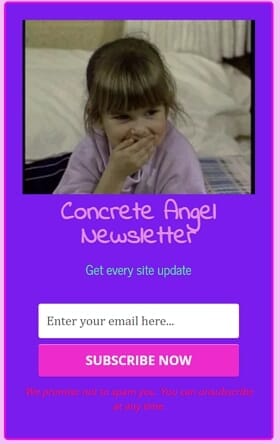 The sign up limit right now is 2000 subscriptions, but I do not expect to hit that limit anytime soon. 
I am diligently working on paying off my credit card bill of $193 by June 12. It means taking a ton of surveys that payout very little over time. 70% of that $193 has been used to make this site better. If I cannot update this site for a while after this please understand I am always on the lookout for new or more information and that I have NOT given up on this site. I made a promise to Nancy Kelly over the years I would keep doing this for her and fans until I cannot possibly do so anymore. 
If anyone wants to chip in on helping me pay my credit card bill, please donate at least one dollar or more here:
That's all I have for now. Thanks, everyone! Until next time. 🙂
Visits2081
Today 0
Total 301762