Last Updated on February 19, 2021 by Celia
I will be painfully honest : I am reaching out to all my friends and the entire internet fan base out here. I need to pay off the credit card I use to maintain the site. I only have until the 12 of January, or 13 days time.
The amount I need is $64.
I live on a fixed income due to my Cerebral Palsy and can't afford to spare any extra money at this time. I have already paid more than $200 since October, and I am exhausted!
To donate, please find the $64 Drive Campaign side bar widget (seen below),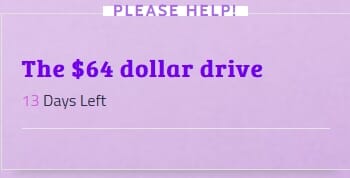 or click here.
I am shamelessly down on my knees begging–PLEASE HELP! I can't miss this payment!
H E L P,
P L E A S E!
Thanks much in advance! 😳 
Visits2884
Today 0
Total 295765