Last Updated on May 9, 2021 by Celia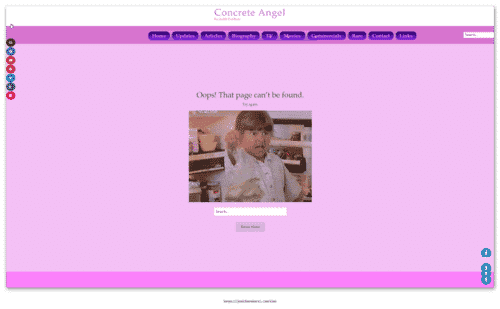 The customized error 404 pages look like the image above. Cute, yes?
More articles were added to the articles page.
I managed to find the .mp3 sound file I took from the Murder House Flip episode. My Sirv account automatically backs up every media file uploaded to this site which includes .mp3 files–how lucky is that? Thank you, Sirv! The file is back below the mp4 video clip.
With the addition of the plugin WP Last Modified Info, it is now possible to see precisely when each page and post was last modified.
Added a link to a blog article – BTTF# 19: The Tragic Death of Child Actress Judith Barsi in Canoga Park Remembered 25 Years Later–you can see a screen capture of the history of the selling of the house from Judith and Maria's murder on to the current residents, the Bernal family, as featured on Murder House Flip.
---
Please consider making a donation of $1 or more if you want to support my ongoing efforts to keep maintain this project. I could really use the money.  Thanks much in advance to anyone who decides to contribute.
---
That's all for now. Until next time.
Visits6908
Today 0
Total 295827