Last Updated on November 22, 2021 by Celia
I realize I have not updated since April–a full six months. There is a reason for this. I've been focused on helping out a friend with their ebay business, and there hasn't been much new out there until my friend, Tracy, informed me there was a complete video of the 1987 Princess of Power commercial on August 25. Thank you once more, my friend.
I have only now summoned the courage to post about it now. For the last 2 months, my depression has gotten the best of me. Nancy Kelly, the woman who I do this site for, has passed away after many years of illness. I had the pleasure of meeting her in person in July of 2009 for about a day and a half. She was exactly as she appeared to be: shy, but so sweet and passionate.
Nancy was Judith's tutor the last school year of her life in 1987-1988. When I wanted to give up on this project, Nancy kept me going with her quiet presence and love for abused children. I never wanted to let her down.
The last 5 months of her life were spent in the hospital where she often livestreamed on facebook and told of her musings and struggles. She loved all her friends like family; she told us this daily. On July 16th, I spent most of the day in bed because of menstrual pain. I was devastated to learn from 2 of my facebook friends she had slipped away between 4 and 5 Pacific time. Yet I also knew she was free from the pains of her body, all her struggles with her eating disorders.
She said in a video no one was allowed to tell her goodbye. So I sent her this clip from Nomadland in early May before an extended leave away from the internet (I was visiting family):
I miss you, Nanny. See you down the road.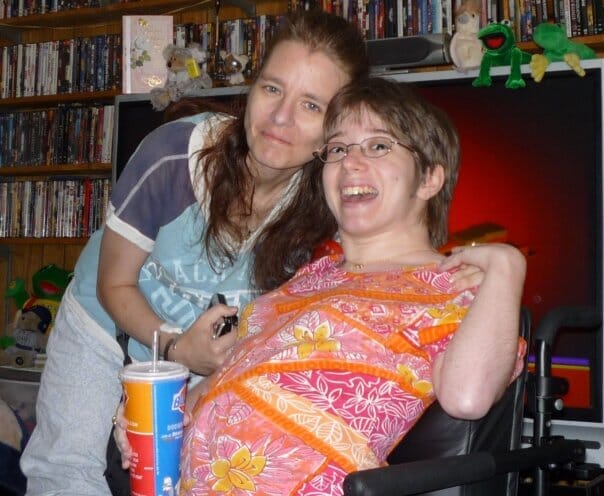 —————-For anyone who wishes to honor Nancy's memory, please consider a donation to the following organizations:
NEDA (National Eating Disorders Association)
https://www.nationaleatingdisorders.org/
Gastroparesis Awareness, help and research
---
You know it's true:
Everything I do, I do it for you.
-Bryan Adams, 1991
Visits9278
Today 12
Total 268747