Last Updated on October 5, 2019 by Celia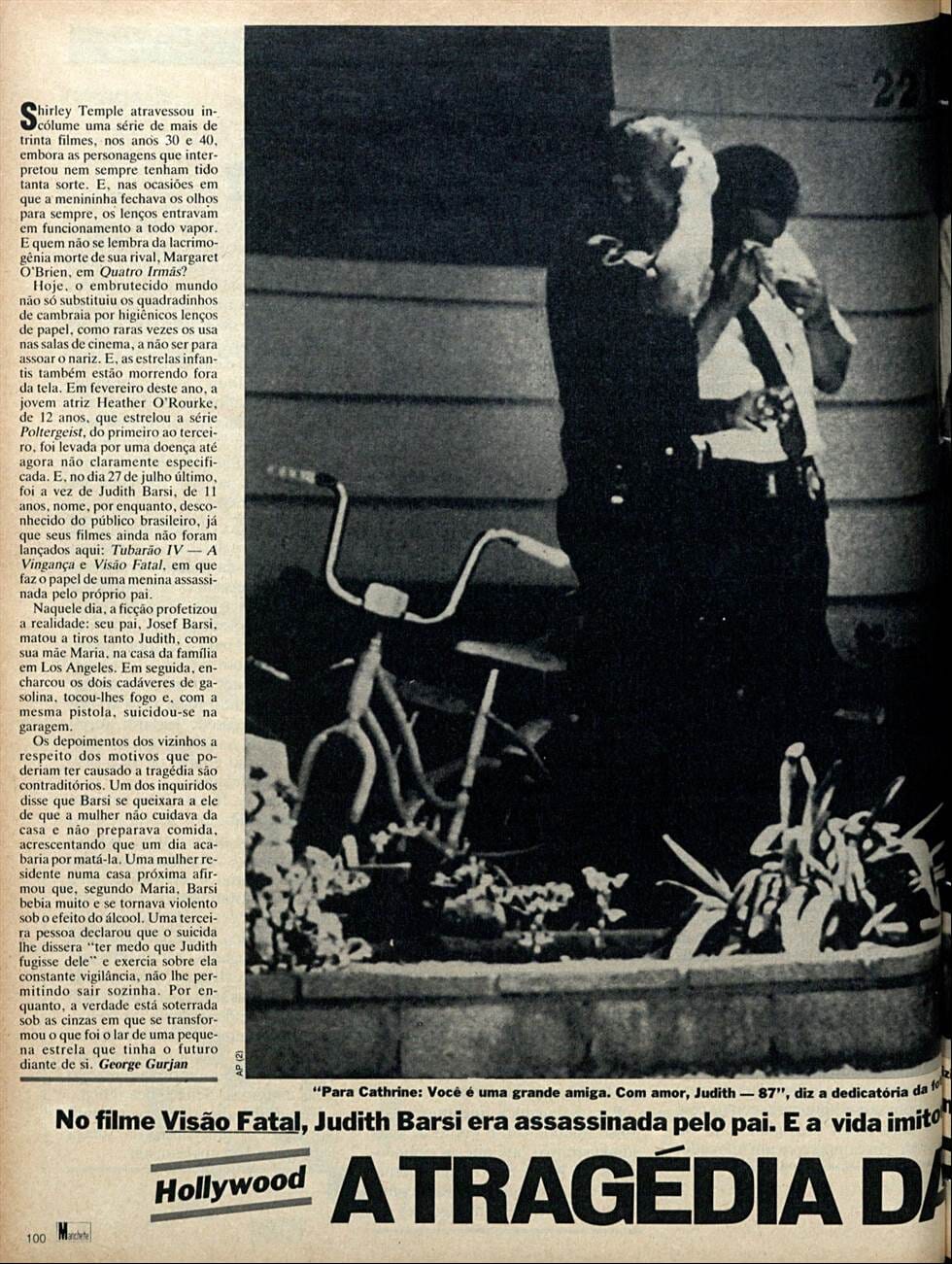 This is the rough translation from Portuguese to English:
Shirley Temple went through a series of over thirty films in the thirties and forties, although the characters she played were not always so lucky. And when the girls would close their eyes forever, the cloths would come into full swing. And who doesn't remember the tearful death of their rival, Margaret O'Brien. The brutish world did not just replace the chambray squares with hygienic paper sticks. as he rarely uses them in movie theaters, except to blow his nose. The child stars are also dying off the screen. In February this year, young actress Heather O'Rourke, 12. starred in the Poltergeist series from first to third. has been driven by a disease so far not clearly specified.
On July 27, it was Judith Barsi's turn. 11 years old, (she was actually 10 years old) the  name for a while unknown to the Brazilian public, since her films have not yet been released here: JAWS IV – The  Revenge and Fatal Vision, in which she plays a girl murdered by her own father- that day. The made for TV movie  prophesied reality: her father. Josef Barsi shot and killed both Judith and her mother Maria at the family house in Los Angeles Then, he doused  both with gas, set them on fire and with the same pistol, he committed suicide in the garage.
The testimonies of neighbors about the reasons that might have caused the tragedy are contradictory. One respondent said that Barsi had told him that his wife did not take care of the house and did not prepare food, adding that one day he would finish it. A woman living in a nearby house said that, according to Maria, Barsi drank a lot and became violent under the influence of alcohol. A third stated that the suicide had told her to be afraid that Judith would run away from him and was exercising constant vigilance over her, not allowing her to go out on her own.
Meanwhile, the truth is buried under the ashes into what has become the home of a small star with the future before her.  -George Gurjan
***
CAPTIONS
"For Cathrine you are a great friend. With love, Judith – 87," says the dedication of In the movie Jaws IV '.  Judith Barsi was murdered by her father. And Life Imitates Art THROUGH Hollywood
Second page caption: On July 27, a policeman carries the remains of Barsi in his arms, wrapped in a body bag.
LITTLE STAR 
---
A HUGE, HEARTFELT THANK YOU to my friend, Michelle (M1M1), for letting me use  this scanned article.
Visits3232
Today 0
Total 295829