Last Updated on November 5, 2020 by Celia
I have to, as a soundtrack collector, pay tribute to the score of one of Judith's most known films, "The Land Before Time". I first saw the film in 1989 as a 6-year-old with my 5-year-old sister and my dad. I loved the music, especially the opening cue as it built up from near silence to a roaming crescendo. 
Nearly all the characters have their own themes and each helps tell the story. 
I remember finding a copy of the album as a 16-year-old while browsing at a Hastings bookstore. I later gave it to my grandma because I knew she loved the movie so much. 
I'm delighted someone decided to release all the music for this movie and will buy a copy as soon as I can raise the money for it. 
Here is a  link to a nice review of it on a James Horner music site which is particularly in depth:
https://jameshorner-filmmusic.com/the-land-before-time-expanded-edition-our-exclusive-review/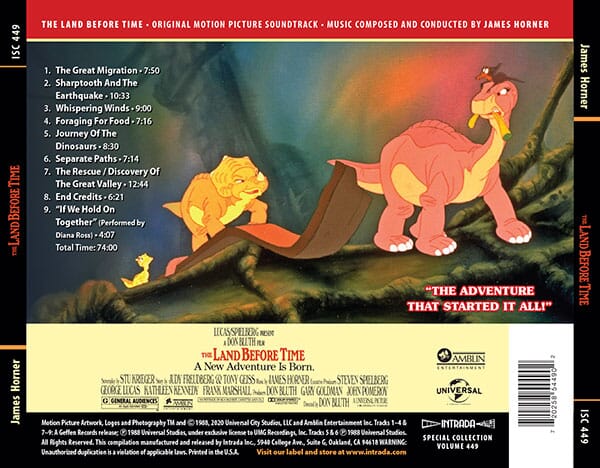 You can buy your copy here. 
That's all for now. Until next time! 😀 
Visits1843
Today 0
Total 295791